ABOUT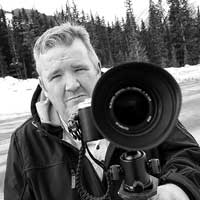 Steve Webster
One of my favorite places in the world is Waterton Lakes National Park, located in the south west corner of the province of Alberta, Canada. In fact, I practically grew up there. There is a rule we locals have about Waterton: don't tell anyone about Waterton! It's a very small, quaint national park and we would like to keep it that way. The town of Waterton is built around this waterfall, the beautiful Cameron Falls, fed by the great Cameron lake located high up in the mountains. I have been coming here for decades as I was raised nearby and it's the inspiration for most of my passion for waterfalls. This photograph was made in late fall when the water is low on the falls, giving a revealing look at the rocks under the falls.

At some point in my childhood I became enamored with waterfalls of all kinds. I'm drawn to the sense of their awe-inspiring beauty; a sense of piece and great strength. I love the sound of rushing waters, the smell, the sweet mist given off. My most favorite place to be is next to a waterfall.

The water in Waterton Lakes National Park is glacier water, coming directly from glaciers high up in the Great Canadian Rocky Mountains. It is freezing cold! You can't swim in this water without a wet/dry suit, it's too cold! It is also the purest, best tasting fresh water in the world.

My second passion, next to waterfalls, is black and white photography. With this photograph I hoped to capture, in B&W, the grandeur and beauty of Cameron Falls as well as the detail and grit of the mountain rock; cut bare and jagged by a millennia of flowing water.

This image is part of a series of photographs I entitled "Velvet Waters". Centered around rushing waters, this series of artworks is characterized by exceptionally deep black tonal qualities; the resulting B&W prints have an almost velvet like feel and texture as the deep blacks and pure white tones combine to give the viewer an experience they can almost reach out and touch. The image is made from over 200 detailed photos, which helps give the excellent, high resolution reproduction this waterfall deserves. It is a beautiful image, but remember one thing: don't tell anyone about Waterton!
CLOSE-UPS
Stunning image clarity
This 1,408-megapixel VAST photo is one of the highest definition fine art photographs ever created. It has a resolution equivalent to 679 full-HD TVs.

TECH SPECS
EXPOSURE SPECS
| | |
| --- | --- |
| Date & Time | October 13, 2014: 11:00am |
| Location | Cameron Falls, Waterton Lakes National Park, Alberta, Canada |
| Coordinates | 49.051427, -113.915918 |
| Camera | Lumix DMC-G5 |
| Megapixels per Exposure | 16.0 |
| Lens | Olympus 14-150mm f/4-5.6 ED |
| Focal Length | 135mm |
| Aperture | f/22 |
| Shutter Speed | 3 sec |
| ISO | 100 |
| Number of Exposures | 215 |
FILE SPECS
| | |
| --- | --- |
| Total Pixels | 1,408,080,000 |
| Horizontal Pixels | 60,000 |
| Vertical Pixels | 23,468 |
| Aspect Ratio | 1 : 2.56 |
| File Size | 8.05 GB |
| Width @ 300ppi (perfect) | 16.67 feet |
| Height @ 300ppi | 6.52 feet |
| Width @ 150ppi (near-perfect) | 33.33 feet |
| Height @ 150ppi | 13.04 feet |
Olympus 14-150mm f/4-5.6 ED

VAST PRINTS
THE HIGHEST RESOLUTION PHOTOGRAPHIC PRINTS EVER CREATED
VAST Prints are fine art photographic paper prints that arrive ready to be mounted and/or framed. They are created using the sharpest photographic printer in commercial use: a very rare specialty printer that formerly printed currency and military surveillance imagery. Learn more


Every VAST Print has two certificates of authenticity hand-signed by the artist and the printmaker: one affixed to the print and one standalone. Additionally, each print is assigned a unique serial number via a permanent hologram seal and recorded in our registry. Its provenance is tracked and verified using state-of-the-art digital blockchain encryption technology.
VAST DISPLAYS
THE HIGHEST QUALITY PHOTOGRAPHIC DISPLAYS EVER CREATED
VAST Displays are ready-to-hang works of art that contain a VAST Print sealed between flame-polished acrylic glass and an aluminum backing. A hidden brace on the back causes the display to gracefully float off the wall for a sleek, modern frameless look that complements nearly any decor style. Learn more


SIZING GUIDE
A one-of-a-kind conversation starter
This VAST photo becomes a stunning conversation-starter wherever it's showcased. It's offered in 4 large-format sizes:















LICENSES
Customize your own VAST creation
A VAST license allows you to use this VAST photo in any art or design project, using any printing, mounting, or framing method. Other photos degrade when enlarged more than 22 inches wide, but this photo remains sharp up to 33.3 x 13 feet. Your imagination is the limit for how it can be used. Learn more
TYPICAL PROFESSIONAL PHOTO
MAXIMUM PRINT SIZE WITHOUT QUALITY DEGRADATION:


THIS VAST PHOTO
MAXIMUM PRINT SIZE WITHOUT QUALITY DEGRADATION:


Create an exceptional artwork.

Contact one of our VAST experts to license this VAST photo:
SIMILAR PRIME COLLECTION PHOTOS
SIMILAR OPEN COLLECTION PHOTOS
TAGS