ABOUT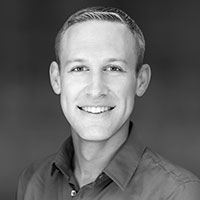 Dan Piech
New York's characteristically energetic skyline takes on a captivating aesthetic when presented in monochrome. This phenomenon is amplified when "the city that never sleeps" is captured after the sun sets on a Saturday night and the bright lights of the city's bustling activity illuminate the landscape. Likewise, this phenomenon is even more poignant with an elevated and unobstructed vantage point looking across the vast undulating cityscape. And this phenomenon becomes something truly special after a snowstorm transforms the city into an idyllic winter wonderland. After months of preparation and waiting, I was able to create a photo at the confluence of all these principles.

The clock was swiftly approaching midnight on a beautiful winter night and I had arguably the best view in the entire city. I was atop one of the tallest buildings between downtown Manhattan and the iconic Midtown Manhattan skyline. The 6th Avenue thoroughfare raced into the heart of the city before me. A winter storm had just passed and the city was dressed in a fresh coat of snow. Every New Yorker is familiar with that fleeting moment after a winter storm when the snow is still a sparkling white powder before it turns to an unsightly brown slush. This was that moment.

As soon as the last remnants of clouds from the storm cleared, I began the multi-hour process of exposing the 198 long-exposure images that comprise this exceptionally high resolution VAST photo. As I did, midnight came and went, but the energy of the city never diminished. Cars continued to race up 6th avenue, ferrying passengers to evening activities. Windows continued to glow, hiding weekend festivities behind them. Spotlights continued to dance skyward from the heart of Times Square. And friends continued to romp down snow-covered sidewalks, joyously reveling in the winter wonderland.

In the weeks that followed that perfect night, I spent over one hundred hours polishing and assembling the individual photos into this final VAST photo. Additionally, I carefully crafted an advanced monochrome conversion process to generate the unique black and white aesthetic that properly highlights this special moment.

The clarity of this VAST photo cannot be overstated. Buildings nearly a dozen miles away are clearly visible. Tiny details such as footprint patterns in snow-covered parks are easily discernible. Fascinating rooftop structures covered in snow drifts are revealed in striking resolution. Groups of friends out for a night on the town fill the sidewalks. The diverse characters of famous New York neighborhoods like the West Village, Chelsea, SoHo, and Gramercy can be palpably felt. And facades of numerous architectural masterpieces such as the Empire State Building are exquisitely rendered.

Details like these, indelible memories of this perfect scene, fill every nook of this VAST photo, nestled among the melodic rhythm of the city's iconic skyline rendered in exquisite monochrome.
This photo is also available in these alternate versions:
CLOSE-UPS
Stunning image clarity
This 4,636-megapixel VAST photo is one of the highest definition fine art photographs ever created. It has a resolution equivalent to 2,236 full-HD TVs.

TECH SPECS
EXPOSURE SPECS
| | |
| --- | --- |
| Date & Time | January 7, 2017: 10:53pm |
| Location | Manhattan, New York City |
| Coordinates | 40.725494, -74.005367 |
| Camera | Canon 5DS |
| Megapixels per Exposure | 50.6 |
| Lens | Canon 100-400mm f/4.5-5.6L IS II |
| Focal Length | 400mm |
| Aperture | f/7.1 |
| Shutter Speed | 10 sec |
| ISO | 400 |
| Number of Exposures | 198 |
FILE SPECS
| | |
| --- | --- |
| Total Pixels | 4,635,699,194 |
| Horizontal Pixels | 164,819 |
| Vertical Pixels | 28,126 |
| Aspect Ratio | 1 : 5.86 |
| File Size | 26.5 GB |
| Width @ 300ppi (perfect) | 45.78 feet |
| Height @ 300ppi | 7.81 feet |
| Width @ 150ppi (near-perfect) | 91.57 feet |
| Height @ 150ppi | 15.63 feet |
Canon 100-400mm f/4.5-5.6L IS II

VAST PRINTS
THE HIGHEST RESOLUTION PHOTOGRAPHIC PRINTS EVER CREATED
VAST Prints are fine art photographic paper prints that arrive ready to be mounted and/or framed. They are created using the sharpest photographic printer in commercial use: a very rare specialty printer that formerly printed currency and military surveillance imagery. Learn more


Every VAST Print has two certificates of authenticity hand-signed by the artist and the printmaker: one affixed to the print and one standalone. Additionally, each print is assigned a unique serial number via a permanent hologram seal and recorded in our registry. Its provenance is tracked and verified using state-of-the-art digital blockchain encryption technology.
VAST DISPLAYS
THE HIGHEST QUALITY PHOTOGRAPHIC DISPLAYS EVER CREATED
VAST Displays are ready-to-hang works of art that contain a VAST Print sealed between flame-polished acrylic glass and an aluminum backing. A hidden brace on the back causes the display to gracefully float off the wall for a sleek, modern frameless look that complements nearly any decor style. Learn more


SIZING GUIDE
A one-of-a-kind conversation starter
This VAST photo becomes a stunning conversation-starter wherever it's showcased. It's offered in 3 large-format sizes:














LICENSES
Customize your own VAST creation
A VAST license allows you to use this VAST photo in any art or design project, using any printing, mounting, or framing method. Other photos degrade when enlarged more than 22 inches wide, but this photo remains sharp up to 91.6 x 15.6 feet. Your imagination is the limit for how it can be used. Learn more
TYPICAL PROFESSIONAL PHOTO
MAXIMUM PRINT SIZE WITHOUT QUALITY DEGRADATION:


THIS VAST PHOTO
MAXIMUM PRINT SIZE WITHOUT QUALITY DEGRADATION:


Create an exceptional artwork.

Contact one of our VAST experts to license this VAST photo:
SIMILAR PRIME COLLECTION PHOTOS
SIMILAR OPEN COLLECTION PHOTOS
TAGS