ABOUT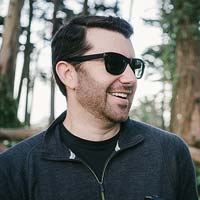 Justin Katz
The road that bends around Emerald Bay, Lake Tahoe is a truly spectacular drive. The two-lane road hugs the hills above the shoreline of the teardrop-shaped bay at the southwest part of the lake. Because this road is situated on such a steep slope, it is closed for the majority of the winter, due to the risk of avalanches cascading down the mountainside at any moment. It is for this reason that the only way to get to this spot during the most beautiful time of year is by way of a snowshoe trek.

I felt it necessary to compose this shot to align the island in the middle of Emerald Bay with the opening of the bay itself. This was a great idea in theory, however actually making it happen is another story. With 5-6 feet of snow covering the very steeply sloped mountainside, finding a way to secure my tripod was a real challenge. I had to trudge for a while through the precarious snow on the slope to find a position that worked.

Just in case I needed more challenges, the wind and sky had been dramatically changing throughout the entire day, making it very difficult to predict the conditions from one moment to the next. In fact, just fifteen minutes before this VAST photo was taken, the entire view was covered in a snowstorm, limiting visibility to barely the island alone. So, when this weather window presented itself, I knew that I wouldn't have long before the storm came back, causing the shot to become impossible again.

In order to create a VAST photo, you have to set everything up, get every setting right, and then you have to capture and keep track of a large number of photos in succession. It takes some time, which means that it helps if you can get yourself comfortable while you make all this happen. Normally, comfort isn't a priority because, as photographers, we will do whatever is necessary to get the shot. However, if you can relax your body, you can direct more focus on getting every component of the image just right. Perched on the side of this snow bank, I was able to carve out a perfect little snow-chair in the fresh powder. I laughed to myself at how accidentally comfortable I had just made myself in order to capture this scene.

When I was a child, I remember coming here to Emerald Bay by boat during the summer months. We would motor in, anchor somewhere offshore, and swim in the lake. The cold water was refreshing on a hot August day, but looking down at this southern park of Lake Tahoe at the moment, it was a little hard to imagine going for a swim.

After completing the VAST photo exposure process, the weather began to turn for the worse and so I quickly packed up and began the snowshoe trek out. Cold, I wished for those hot August days swimming in the lake. But then I realized that I preferred this moment – when the scenic winter beauty of Emerald Bay was mine alone to enjoy.
CLOSE-UPS
Stunning image clarity
This 341-megapixel VAST photo is one of the highest definition fine art photographs ever created. It has a resolution equivalent to 164 full-HD TVs.

TECH SPECS
EXPOSURE SPECS
| | |
| --- | --- |
| Date & Time | February 19, 2017: 10:33am |
| Location | Emerald Bay, Lake Tahoe, California |
| Coordinates | 38.950031, -120.110489 |
| Camera | Nikon D810 |
| Megapixels per Exposure | 36.3 |
| Lens | Nikkor 70-200mm f/4G ED VR |
| Focal Length | 105mm |
| Aperture | f/16 |
| Shutter Speed | 1/125 |
| ISO | 100 |
| Number of Exposures | 26 |
FILE SPECS
| | |
| --- | --- |
| Total Pixels | 340,535,888 |
| Horizontal Pixels | 30,184 |
| Vertical Pixels | 11,282 |
| Aspect Ratio | 1 : 2.68 |
| File Size | 1.95 GB |
| Width @ 300ppi (perfect) | 8.38 feet |
| Height @ 300ppi | 3.13 feet |
| Width @ 150ppi (near-perfect) | 16.77 feet |
| Height @ 150ppi | 6.27 feet |
Nikkor 70-200mm f/4G ED VR

VAST PRINTS
THE HIGHEST RESOLUTION PHOTOGRAPHIC PRINTS EVER CREATED
VAST Prints are fine art photographic paper prints that arrive ready to be mounted and/or framed. They are created using the sharpest photographic printer in commercial use: a very rare specialty printer that formerly printed currency and military surveillance imagery. Learn more


Every VAST Print has two certificates of authenticity hand-signed by the artist and the printmaker: one affixed to the print and one standalone. Additionally, each print is assigned a unique serial number via a permanent hologram seal and recorded in our registry. Its provenance is tracked and verified using state-of-the-art digital blockchain encryption technology.
VAST DISPLAYS
THE HIGHEST QUALITY PHOTOGRAPHIC DISPLAYS EVER CREATED
VAST Displays are ready-to-hang works of art that contain a VAST Print sealed between flame-polished acrylic glass and an aluminum backing. A hidden brace on the back causes the display to gracefully float off the wall for a sleek, modern frameless look that complements nearly any decor style. Learn more


SIZING GUIDE
A one-of-a-kind conversation starter
This VAST photo becomes a stunning conversation-starter wherever it's showcased. It's offered in 4 large-format sizes:















LICENSES
Customize your own VAST creation
A VAST license allows you to use this VAST photo in any art or design project, using any printing, mounting, or framing method. Other photos degrade when enlarged more than 22 inches wide, but this photo remains sharp up to 16.8 x 6.3 feet. Your imagination is the limit for how it can be used. Learn more
TYPICAL PROFESSIONAL PHOTO
MAXIMUM PRINT SIZE WITHOUT QUALITY DEGRADATION:


THIS VAST PHOTO
MAXIMUM PRINT SIZE WITHOUT QUALITY DEGRADATION:


Create an exceptional artwork.

Contact one of our VAST experts to license this VAST photo:
SIMILAR PRIME COLLECTION PHOTOS
SIMILAR OPEN COLLECTION PHOTOS
TAGS