STORY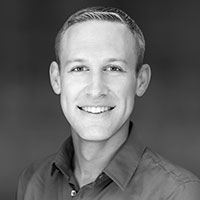 Dan Piech
"Gloaming" is the poetic word for the final minutes of twilight when the last remnants of the sun's glow, a faint reminder of the passing day, disappear over the horizon. Oft overlooked by the photographic community who consider it outside the "golden hour" surrounding sunset, it is one of my favorite moments because of the sudden stillness that sets in on the world. Clouds powered by sunlight wisp away into nothingness, the cacophony of birdsong fades into the slow chirp of a lone cricket, and harsh shadows give way to a soft moonlit glow. Photos at this time have a quietness and simplicity about them - a representation of life settling down to a peaceful evening rest.
I wanted to capture the magnificence of midtown Manhattan at this special moment, so I headed to Williamsburg, a vibrant up-and-coming Brooklyn neighborhood. Before sunset, I set up my gear on top of the riverside rocks that were slowly being submerged by the rising tide. Dozens of other photographers and Williamsburg residents were enjoying the sandy beach and garden-variety sunset.
As the sunlight diminished, so did the people; photographers packed up and left, picnicking friends said their goodbyes, and dog-walkers returned home (much to the chagrin of their four-legged companions). I was alone, save for a pair of lovers silently embracing at the very end of the beach and an unmoving middle-aged man deep in thought perched on one of the nearby rocks.
It was at this reverent time that I began capturing the 76 long-exposures that would ultimately comprise this VAST photo, one of the largest photographs ever created of New York City. I hope that it conveys at least a small fraction of the beauty and serenity of a New York City gloaming.
Note: This photo is extremely flexible; purchasing a license allows you to crop it to nearly any aspect ratio so that it best fits into your space. Alternatively, you can also find a cropped version for sale
here
.
This photo is also available in these alternate versions:
CLOSE-UPS
Stunning image clarity
This 1,946-megapixel VAST photo is one of the highest definition fine art photographs ever created. It has a resolution equivalent to 938 full-HD TVs.

TECH SPECS
EXPOSURE SPECS
| | |
| --- | --- |
| Date & Time | August 22, 2016: 8:12pm |
| Location | Manhattan, New York City |
| Coordinates | 40.721602, -73.963507 |
| Camera | Canon 5DS |
| Megapixels per Exposure | 50.6 |
| Lens | Canon 100-400mm f/4.5-5.6L IS II |
| Focal Length | 400mm |
| Aperture | f/5.6 |
| Shutter Speed | 0.6 sec |
| ISO | 400 |
| Number of Exposures | 76 |
FILE SPECS
| | |
| --- | --- |
| Total Pixels | 1,945,806,600 |
| Horizontal Pixels | 91,870 |
| Vertical Pixels | 21,180 |
| Aspect Ratio | 1 : 4.34 |
| File Size | 5.83 GB |
| Width @ 300ppi (perfect) | 25.52 feet |
| Height @ 300ppi | 5.88 feet |
| Width @ 150ppi (near-perfect) | 51.04 feet |
| Height @ 150ppi | 11.77 feet |
Canon 100-400mm f/4.5-5.6L IS II

VAST PRINTS
THE HIGHEST RESOLUTION PHOTOGRAPHIC PRINTS EVER CREATED
VAST Prints are fine art photographic paper prints that arrive ready to be mounted and/or framed. They are created using the sharpest photographic printer in commercial use: a very rare specialty printer that formerly printed currency and military surveillance imagery. Learn more


Every VAST Print has two certificates of authenticity hand-signed by the artist and the printmaker: one affixed to the print and one standalone. Additionally, each print is assigned a unique serial number via a permanent hologram seal and recorded in our registry. Its provenance is tracked and verified using state-of-the-art digital blockchain encryption technology.
VAST DISPLAYS
THE HIGHEST QUALITY PHOTOGRAPHIC DISPLAYS EVER CREATED
VAST Displays are ready-to-hang works of art that contain a VAST Print sealed between flame-polished acrylic glass and an aluminum backing. A hidden brace on the back causes the display to gracefully float off the wall for a sleek, modern frameless look that complements nearly any decor style. Learn more


SIZING GUIDE
A one-of-a-kind conversation starter
This VAST photo becomes a stunning conversation-starter wherever it's showcased. It's offered in 4 large-format sizes:















LICENSES
Customize your own VAST creation
A VAST license allows you to use this VAST photo in any art or design project, using any printing, mounting, or framing method. Other photos degrade when enlarged more than 22 inches wide, but this photo remains sharp up to 51 x 11.8 feet. Your imagination is the limit for how it can be used. Learn more
TYPICAL PROFESSIONAL PHOTO
MAXIMUM PRINT SIZE WITHOUT QUALITY DEGRADATION:


THIS VAST PHOTO
MAXIMUM PRINT SIZE WITHOUT QUALITY DEGRADATION:


Create an exceptional artwork.

Contact one of our VAST experts to license this VAST photo:
SIMILAR PRIME COLLECTION PHOTOS
SIMILAR OPEN COLLECTION PHOTOS
TAGS