ABOUT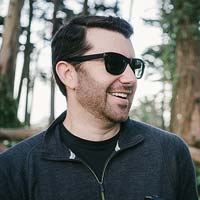 Justin Katz
The "blue hour" is that brief but magical moment of twilight, either early in the dawn, or late in the dusk, when the sun is at a significant distance below the horizon and the residual, indirect sunlight takes on a predominantly blue hue. My goal was to create a VAST photo capturing San Francisco at that special moment - but first I had to find the perfect location.

The "City By the Bay" is located on a geologic fault line, which means that there is no shortage of scenic overlooks, dramatic views, and picturesque locations. That being said, Twin Peaks is one of my favorites. It offers a great vantage of the entire downtown San Francisco area, with a straight view down Market Street all the way to the famous Ferry Building. In the background, you can see the recently reinvigorated Bay Bridge, with all its dancing lights.

On this particularly cold evening, I worked my way past the main viewpoint, and down the hillside where I could be in perfect position. I wanted to be able to see the famous Ferry Terminal building all the way at the end of Market Street. I sat on the side of the hill and waited for the sun to go down behind me and for all the other visitors to leave. In the span of about ten minutes, the temperature dropped about 15 degrees, and the wind picked up dramatically. Without the extra layers and a sturdy tripod, this shot would not have happened.

While I waited for the light to be just right, I reflected on how I was witnessing San Francisco at a pivotal moment of its history, with the nearly completed construction of the West Coast's tallest building, Salesforce Tower. With such explosive economic growth from the tech sector, this city has seen a lot of changes in the past ten years, some for the better, and some not. I have been part of those changes in many ways, and when you sit upon one of its predominant hills, you are confronted with how much the city is alive and evolving right in front of you.

Facing east towards downtown, my goal was to wait for the moment when all the lights within the city were illuminated, but the sky still had enough light to have the beautiful blue color I was looking for. Once the sun set below the horizon, the light changed at a dramatically fast pace, giving me precious-little time to capture the many exposures that I would stitch together to create this image - all while my fingers were going numb.

After successfully capturing the necessary images within the fleeting time window, I packed up my gear and hiked back up the hillside, excited to begin the technical process of using the source material I had just acquired to generate this VAST photo, one of the highest resolution photographs ever created.
VAST photos are the highest resolution fine art images ever made.
Learn more

Black & white version
Downtown San Francisco
San Francisco
California
USA
evening
cityscapes
skylines
architecture
roads
sky
panoramas
blue
gold
yellow
Discuss this photo on the blog
CLOSE-UPS
Stunning image clarity
This 363-megapixel VAST photo is one of the highest definition fine art photographs ever created. It has a resolution equivalent to 175 full-HD TVs.

TECH SPECS
EXPOSURE SPECS
| | |
| --- | --- |
| Date & Time | March 28, 2017: 7:58pm |
| Location | Downtown San Francisco, California |
| Coordinates | 37.754697, -122.446323 |
| Camera | Nikon D810 |
| Megapixels per Exposure | 36.3 |
| Lens | Nikkor 70-200mm f/4G ED VR |
| Focal Length | 200mm |
| Aperture | f/13 |
| Shutter Speed | 5 sec |
| ISO | 100 |
| Number of Exposures | 27 |
FILE SPECS
| | |
| --- | --- |
| Total Pixels | 363,349,824 |
| Horizontal Pixels | 32,817 |
| Vertical Pixels | 11,072 |
| Aspect Ratio | 1 : 2.96 |
| File Size | 2.08 GB |
| Width @ 300ppi (perfect) | 9.12 feet |
| Height @ 300ppi | 3.08 feet |
| Width @ 150ppi (near-perfect) | 18.23 feet |
| Height @ 150ppi | 6.15 feet |
Nikkor 70-200mm f/4G ED VR

VAST PRINTS
THE HIGHEST RESOLUTION PHOTOGRAPHIC PRINTS EVER CREATED
VAST Prints are fine art photographic paper prints that arrive ready to be mounted and/or framed. They are created using the sharpest photographic printer in commercial use: a very rare specialty printer that formerly printed currency and military surveillance imagery. Learn more


Every VAST Print has two certificates of authenticity hand-signed by the artist and the printmaker: one affixed to the print and one standalone. Additionally, each print is assigned a unique serial number via a permanent hologram seal and recorded in our registry. Its provenance is tracked and verified using state-of-the-art digital blockchain encryption technology.
VAST DISPLAYS
THE HIGHEST QUALITY PHOTOGRAPHIC DISPLAYS EVER CREATED
VAST Displays are ready-to-hang works of art that contain a VAST Print sealed between flame-polished acrylic glass and an aluminum backing. A hidden brace on the back causes the display to gracefully float off the wall for a sleek, modern frameless look that complements nearly any decor style. Learn more


SIZING GUIDE
A one-of-a-kind conversation starter
This VAST photo becomes a stunning conversation-starter wherever it's showcased. It's offered in 4 large-format sizes:















LICENSES
Customize your own VAST creation
A VAST license allows you to use this VAST photo in any art or design project, using any printing, mounting, or framing method. Other photos degrade when enlarged more than 22 inches wide, but this photo remains sharp up to 18.2 x 6.2 feet. Your imagination is the limit for how it can be used. Learn more
TYPICAL PROFESSIONAL PHOTO
MAXIMUM PRINT SIZE WITHOUT QUALITY DEGRADATION:


THIS VAST PHOTO
MAXIMUM PRINT SIZE WITHOUT QUALITY DEGRADATION:


Create an exceptional artwork.

Contact one of our VAST experts to license this VAST photo:
SIMILAR PRIME COLLECTION PHOTOS
SIMILAR OPEN COLLECTION PHOTOS
TAGS