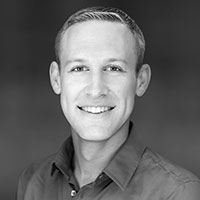 Dan Piech
To call New York City a sublimely magical place would be an understatement. Conveying the uniquely captivating atmosphere of the world's greatest city via the written word is a daunting challenge. Consequently, for the better part of two centuries, photographers have attempted to portray the city's magic in ways that words cannot. This exceptionally high resolution VAST photo is my humble attempt to capture a tiny fraction of that magic.

Heavy clouds, thick with snow, blanketed the sky on an early-January morning in 2017, the type of idyllic winter morning that reminds New Yorkers why they tolerate the cold months. After reviewing the forecast for many inches of snow followed by a sudden clearing of the sky at night, I decided to prepare for a photoshoot of the city from the top of one of the tallest buildings between downtown Manhattan and the iconic Midtown Manhattan skyline.

As the day turned to night, the snow continued falling, coating the usually-dark rooftops of the city with a sheen of white powder. Then, in a matter of minutes, the snow ceased and the clouds whisked away to the east, leaving a perfectly clear sky. The moonlight sparkled off of the snow-covered buildings and the clear atmosphere provided amazing views for miles in every direction. The city stretched before me, filled with glowing windows, energetic arterial avenues, and Saturday-evening festivities.

Giddy with excitement and reveling in the scene, I began exposing the 252 long-exposure images that make up this VAST photo. The fervor of cars racing up 6th avenue into the heart of the city continued uninterrupted during the two hours it took to meticulously record every last high resolution detail of this urban winter wonderland. In the weeks that followed, I spent over one hundred hours polishing and assembling the individual photos into this final VAST photo.

The clarity of this VAST photo cannot be overstated. Buildings nearly a dozen miles away, such as the houses on the New Jersey Palisades, are clearly visible. Tiny details such as footprint patterns in snow-covered parks are easily discernible. Fascinating rooftop structures covered in snow drifts are revealed in striking resolution. Groups of friends out for a night on the town fill the sidewalks. The diverse characters of famous New York neighborhoods like the West Village, Chelsea, SoHo, and Gramercy can be palpably felt. And facades of numerous architectural masterpieces such as the Empire State Building are exquisitely rendered.

Details like these fill every nook of this VAST photo, nestled among the melodic rhythm of the city's iconic skyline, a wonderland of New York City magic waiting to be explored.



Own a record-setting, ready-to-hang VAST Print of this photo or purchase a VAST License to create a customized artwork using it.



Own a print
Get a license
This photo also comes in these alternate versions:
CLOSE-UPS
Stunning image clarity
This 5,910-megapixel large-format VAST photo is one of the highest definition fine art photographs ever created. It has a resolution equivalent to 2,850 full-HD TVs.

TECH SPECS
EXPOSURE SPECS
| | |
| --- | --- |
| Date & Time | January 7, 2017: 10:53pm |
| Location | Manhattan, New York City |
| Coordinates | 40.725494, -74.005367 |
| Camera | Canon 5DS |
| Megapixels per Exposure | 50.6 |
| Lens | Canon 100-400mm f/4.5-5.6L IS II |
| Focal Length | 400mm |
| Aperture | f/7.1 |
| Shutter Speed | 10 sec |
| ISO | 400 |
| Number of Exposures | 252 |
FILE SPECS
| | |
| --- | --- |
| Total Pixels | 5,910,202,080 |
| Horizontal Pixels | 132,397 |
| Vertical Pixels | 44,640 |
| Aspect Ratio | 1 : 2.97 |
| File Size | 33.8 GB |
| Width @ 300ppi (perfect) | 36.78 feet |
| Height @ 300ppi | 12.4 feet |
| Width @ 150ppi (near-perfect) | 73.55 feet |
| Height @ 150ppi | 24.8 feet |
Canon 100-400mm f/4.5-5.6L IS II

VAST PRINTS
THE HIGHEST QUALITY PHOTOGRAPHIC DISPLAYS EVER CREATED
VAST Prints are ready-to-hang art installations handcrafted on demand by world-renowned master printmakers using cutting-edge technology and premium materials.


TRULY SUPERLATIVE PRINT QUALITY
Your VAST Print is created by a very rare specialty printer, formerly used by the US military, with a truly stunning 6100 DPI clarity. The largest of its kind and one of only a handful worldwide, it is the sharpest photographic printer in use.
CONTEMPORARY FRAMELESS FLOATING MOUNT
Your VAST Print is sealed between flame-polished archival-grade acrylic glass and triple-layer aluminum. A hidden back brace causes it to appear to gracefully float off the wall for a sleek frameless look that complements nearly any style of decor. Want a traditional frame instead? Contact us and we can make it happen.
STATE-OF-THE-ART AUTHENTICITY
Your VAST Print has an affixed certificate of authenticity, hand-signed by the artist and the VAST printmaker. It is assigned a unique serial number via a permanent hologram seal and recorded in our registry. Its provenance is tracked and verified using state-of-the-art digital blockchain encryption technology.
A one-of-a-kind conversation starter
This VAST Print becomes a stunning conversation-starter wherever you display it. It's offered in 3 large-format sizes:














Own an exceptional photograph

This Prime Collection VAST photo is a limited edition. Own one of only a few
VAST Prints
of it that will ever be made.*
LICENSES
Customize your own VAST creation
A VAST license allows you to use this VAST photo in any size art installation or design project, using any printing, mounting, or framing method. Other photos degrade when enlarged, but this photo remains sharp up to 73.6 x 24.8 ft.
Your imagination is the limit for how it can be used.

Learn more about VAST licenses
Enter a pair of dimensions and see the difference in resolution between a typical fine art photo and this VAST photo printed at that size:
WIDTH (ft)
HEIGHT (ft)
*These images are for comparison purposes and, due to differing screen resolutions, do not necessarily reflect the appearance of the photos when printed.
TYPICAL PROFESSIONAL PHOTO
MAXIMUM PRINT SIZE WITHOUT QUALITY DEGRADATION:


THIS VAST PHOTO
MAXIMUM PRINT SIZE WITHOUT QUALITY DEGRADATION:


Create an exceptional artwork.

Contact one of our VAST experts to license this VAST photo:
TAGS
SIMILAR PRIME COLLECTION PHOTOS
SIMILAR OPEN COLLECTION PHOTOS