Introducing a new art form
With over 100x the resolution of traditional photographs, VAST photos have a stunning level of clarity unmatched by any other media in history.
Reveal a hidden world
A VAST photo's unprecedented quality reveals a world unseen by other photographic techniques: people going about their lives, detailed man-made structures, and impressive natural formations.
Record-setting clarity
Large-format VAST prints remain crystal clear even when printed at dozens of square feet. Every installation is a window to a moment in time, vibrant with life and ready to be explored.
Typical Fine Art Photo
Typical VAST Photo
Typical
Fine Art Photo
Typical
VAST Photo





Not your ordinary photo
VAST photos have resolutions that are orders of magnitude higher than other photo types.
The following chart is a scale representation of the largest sizes at which different photo types can be printed without image quality degradation.

Largest print size possible without image quality degradation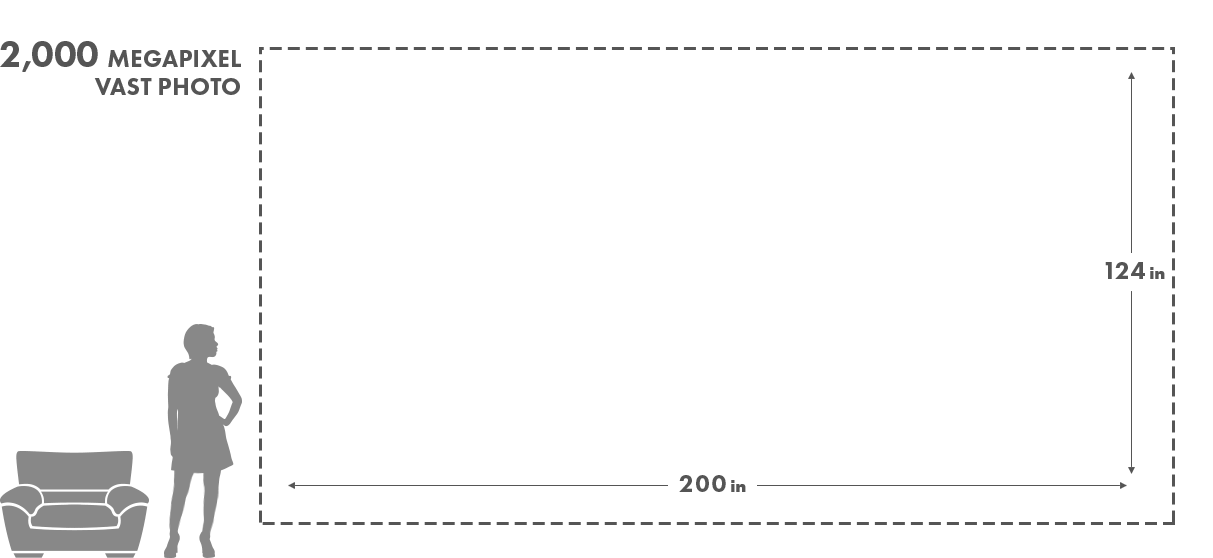 How they're created
VAST photos are created by seamlessly stitching together numerous high-end digital photos of a scene into a single final image. Each individual image that contributes to the final high definition VAST photo is only a small section of the scene and is only a few dozen megapixels. However, after all of the individual images are stitched together, the result is a photo of the entire scene with a resolution that can be thousands of megapixels.

World-Renowned Artists
VAST artists are photographers, technologists, thought-leaders, and award-winners, restlessly pushing the cutting-edge of imaging techniques forward.