This VAST photo is one of the highest definition fine art photographs ever created, with a resolution equivalent to 66 full-HD TVs.

Learn more below or use the menu on the left to explore this truly one-of-a-kind photograph.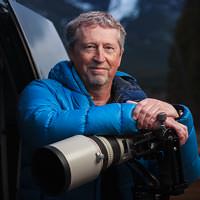 Scott Dimond
Although I live just one hour away from the beautiful Canadian Rocky Mountains to the west, I spend a surprising amount of my time exploring the vast Canadian prairies to the east. My fascination with the prairies lies in the old abandoned homesteads, a testament to a strength and fortitude of people willing to take a chance on a new beginning nearly a century ago.

These days, the number of these homesteads that remain continues to shrink and I must travel farther and farther to find them. Some finally succumb to decades of exposure to the elements and simply collapse. But more and more these days, their demise is at the blade of a bulldozer, removing an unnecessary obstacle for autonomous, GPS-guided, large-scale farming machinery.

I found this old homestead one day in early spring with snow still falling. It was a dreary overcast day but I immediately saw the potential of this west-facing house. What I envisioned was a sunrise photo with the sun positioned between the house and the first outbuilding. However, using an ephemeris app on my phone, I quickly discovered that the only time the sun would rise where I wanted it was during just 5 days in October. So, I began a six-month wait to take this photo.

When early October finally arrived, I rose before dawn and travelled to this location on four consecutive mornings. Each visit involved hiking out to this house in the darkness and setting up the special equipment I needed to create a VAST photo. The sunrise was obscured for the first three attempts, but on the fourth day my vision was finally realized and the sun rose exactly where I wanted it.

The fields surrounding the house had already been harvested. The old house sitting next to empty fields had me thinking of how much work must have been involved in the harvest a hundred years ago and how a successful harvest must have been an annual make-or-break event for the occupants of this house.

I have since returned to this location and all that remains is the house itself. The other buildings have been removed and it is only a matter of time until the house will also vanish, leaving no clues to the first settlers that worked this land in the past.



Own a record-setting, ready-to-hang VAST Print of this photo or purchase a VAST License to create a customized artwork using it.



Own a print
Get a license
CLOSE-UPS
Stunning image clarity
This large-format VAST photo is one of the highest definition fine art photographs ever created. It has a resolution equivalent to 66 full-HD TVs.

TECH SPECS
EXPOSURE SPECS
| | |
| --- | --- |
| Location | Alberta, Canada |
| Coordinates | 50.403924, -113.261377 |
| Time | 7:58am |
| Camera | Canon 5D MIII |
| Megapixels per Exposure | 22.3 |
| Lens | Canon TS-E 24mm f3.5 II |
| Focal Length | 24mm |
| Aperture | f11 |
| Shutter Speed | 1/80 |
| ISO | 200 |
| Number of Exposures | 140 |
FILE SPECS
| | |
| --- | --- |
| Total Pixels | 136,877,622 |
| Horizontal Pixels | 18,966 |
| Vertical Pixels | 7,217 |
| Aspect Ratio | 1 : 2.63 |
| File Size | 782 MB |
| Width @ 300ppi (perfect) | 5.27 feet |
| Height @ 300ppi | 2 feet |
| Width @ 150ppi (near-perfect) | 10.54 feet |
| Height @ 150ppi | 4.01 feet |
PRINTS
THE HIGHEST QUALITY PHOTOGRAPHIC DISPLAYS EVER CREATED
VAST Prints are ready-to-hang art installations handcrafted on demand by world-renowned master printmakers using cutting-edge technology and premium materials.


PRINTING
Your VAST Print is created by an extremely rare specialty printer, formerly used by the US military, with a truly stunning 6100 DPI. The largest of its kind and one of only a handful worldwide, it is the highest resolution photo printer ever made.
MOUNTING
Your VAST Print is sealed between archival-grade acrylic glass and triple-layer Dibond aluminum. We give extra attention to details like flame polishing the edges. A hidden brace floats the unit off the wall for a stunning effect.
FINISHING
Your VAST Print is hand-signed by the artist and includes a seal of authenticity listing its date of creation. Prime Collection photos also include a certificate of authenticity and a listing in the Archive.
A one-of-a-kind conversation starter
This VAST Print becomes a stunning conversation-starter wherever you display it. It's offered in 3 large-format sizes:














Own an exceptional photo.


error
$error

error
$error

error
$error
LICENSES
Customize your own VAST creation
A VAST license allows you to use this VAST photo in an art installation or design project, using any printing, mounting, or framing method. Other photos degrade when enlarged, but this photo remains sharp when printed up to 10.5 x 4 ft.

Your imagination is the limit for how it can be used.
This is an Open Collection VAST photo and has more liberal usage rights than Prime Collection photos. We can customize licenses for extended use cases (digital use, bulk printing, exclusivity clauses, etc.).

Learn more about VAST licenses
Enter a pair of dimensions and see the difference in resolution between a typical fine art photo and this VAST photo printed at that size:
WIDTH (ft)
HEIGHT (ft)
*These images are for comparison purposes and, due to differing screen resolutions, do not necessarily reflect the appearance of the photos when printed.
TYPICAL PROFESSIONAL PHOTO
MAXIMUM PRINT SIZE WITHOUT QUALITY DEGRADATION:


THIS VAST PHOTO
MAXIMUM PRINT SIZE WITHOUT QUALITY DEGRADATION:


Create an exceptional artwork.

Contact one of our art consultants to license this VAST photo:
SIMILAR OPEN COLLECTION PHOTOS
SIMILAR PRIME COLLECTION PHOTOS