ABOUT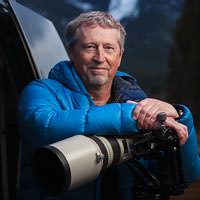 Scott Dimond
Located about 250 miles south of the Arctic Circle, Yellowknife is the only city in Canada's Northwest Territories. Although it is not the northernmost city in the world, it boasts being the best place in the world to view the aurora borealis due to its latitude and the high number of clear night skies each winter.

In the span of one year, I visited Yellowknife on four occasions with the sole purpose of photographing night skies with dancing aurora. One of those visits was in September but the other three were during times when there was still ice and snow all around. The interesting thing about the Yellowknife area is that there are many more roads open in the winter than in the summer and as a result, many areas are only accessible in winter months. This is because roads are created each winter on frozen lakes and run hundreds of miles in all directions.

In early April (officially spring but certainly winter-like in Yellowknife) I made my second trip up north and had the good fortune of being there with clear skies. On the day I arrived, I drove out of town on several ice roads in search of suitable locations for the nights that would follow. Then for several nights in a row I headed out just after midnight to locations that were truly out in the middle of nowhere - or, more accurately, out in the middle of frozen lakes.

Common on these lakes are tents set up by snowmobilers as a base to warm up between runs. I had seen them glowing with gas-lantern lights on my first trip and had been searching for one to anchor an aurora photo ever since. On this night, everything came together. I was in position with a glowing tent in front of me, the special equipment I need to create a VAST photo set up, and a magnificent geomagnetic storm raging overhead.

Photographing aurora can be a complicated business. Too long of an exposure and the structure in the aurora, commonly called the "curtains," is lost and all that is captured is something that looks like a large green cloud. Short exposures can freeze the curtains but they limit the amount of light that can be captured. It is a balancing act and on this night, it was further complicated by my need to capture many photos of these fast-moving curtains for the high-resolution VAST photo assembly. Fortunately, the aurora storm was strong and provided lots of time to photograph and admire this wonderful aurora ribbon stretching across the sky above the glowing orange tent. It was pure magic.
VAST photos are the highest resolution fine art images ever made.
Learn more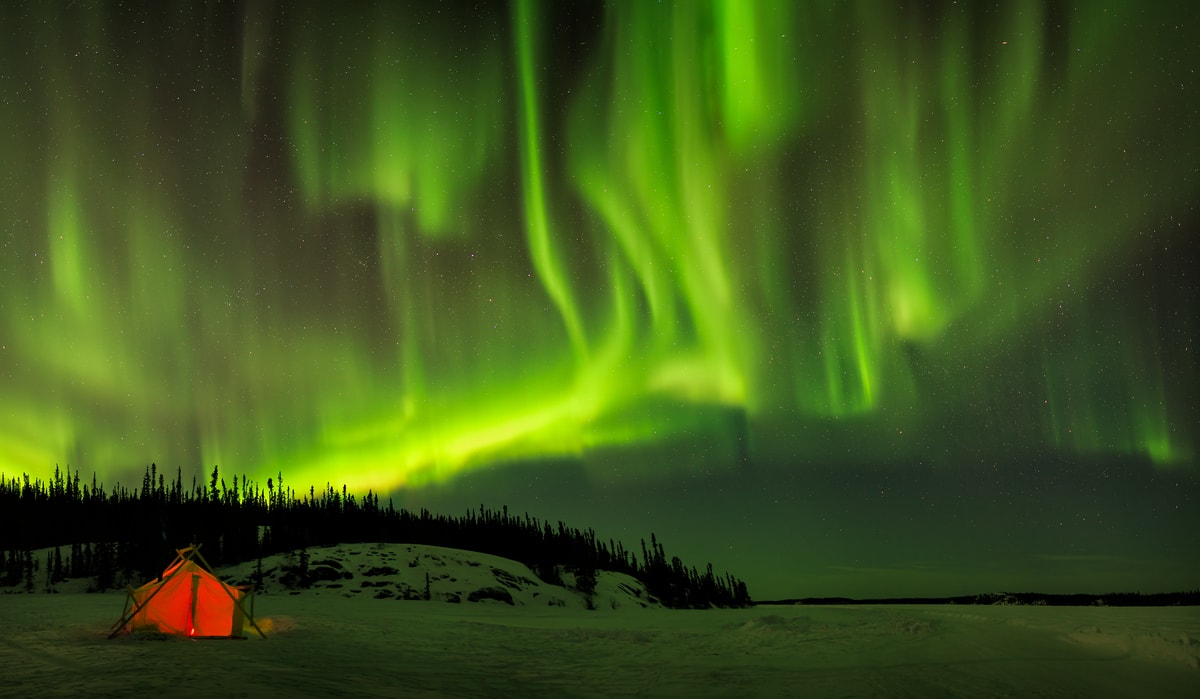 The Green Curtains II
Northwest Territories
Canada
nighttime
nature
astrophotography
sky
aurora
camping
snow
panoramas
surreal
black
green
orange
Discuss this photo on the blog
CLOSE-UPS
Stunning image clarity
This 105-megapixel VAST photo is one of the highest definition fine art photographs ever created. It has a resolution equivalent to 51 full-HD TVs.

TECH SPECS
EXPOSURE SPECS
| | |
| --- | --- |
| Date & Time | April 5, 2014: 12:40am |
| Location | Walsh Lake, Northwest Territories, Canada |
| Coordinates | 62.583319, -114.272441 |
| Camera | Canon 5D MIII |
| Megapixels per Exposure | 22.3 |
| Lens | Canon 24mm f/1.4 II |
| Focal Length | 24mm |
| Aperture | f2 |
| Shutter Speed | 5 sec |
| ISO | 800 |
| Number of Exposures | 9 |
FILE SPECS
| | |
| --- | --- |
| Total Pixels | 104,503,392 |
| Horizontal Pixels | 17,279 |
| Vertical Pixels | 6,048 |
| Aspect Ratio | 1 : 2.86 |
| File Size | 597 MB |
| Width @ 300ppi (perfect) | 4.8 feet |
| Height @ 300ppi | 1.68 feet |
| Width @ 150ppi (near-perfect) | 9.6 feet |
| Height @ 150ppi | 3.36 feet |
VAST PRINTS
THE HIGHEST RESOLUTION PHOTOGRAPHIC PRINTS EVER CREATED
VAST Prints are fine art photographic paper prints that arrive ready to be mounted and/or framed. They are created using the sharpest photographic printer in commercial use: a very rare specialty printer that formerly printed currency and military surveillance imagery. Learn more


Every VAST Print has two certificates of authenticity hand-signed by the artist and the printmaker: one affixed to the print and one standalone. Additionally, each print is assigned a unique serial number via a permanent hologram seal and recorded in our registry. Its provenance is tracked and verified using state-of-the-art digital blockchain encryption technology.
VAST DISPLAYS
THE HIGHEST QUALITY PHOTOGRAPHIC DISPLAYS EVER CREATED
VAST Displays are ready-to-hang works of art that contain a VAST Print sealed between flame-polished acrylic glass and an aluminum backing. A hidden brace on the back causes the display to gracefully float off the wall for a sleek, modern frameless look that complements nearly any decor style. Learn more


SIZING GUIDE
A one-of-a-kind conversation starter
This VAST photo becomes a stunning conversation-starter wherever it's showcased. It's offered in 3 large-format sizes:














LICENSES
Customize your own VAST creation
A VAST license allows you to use this VAST photo in any art or design project, using any printing, mounting, or framing method. Other photos degrade when enlarged more than 22 inches wide, but this photo remains sharp up to 9.6 x 3.4 feet. Your imagination is the limit for how it can be used. Learn more
TYPICAL PROFESSIONAL PHOTO
MAXIMUM PRINT SIZE WITHOUT QUALITY DEGRADATION:


THIS VAST PHOTO
MAXIMUM PRINT SIZE WITHOUT QUALITY DEGRADATION:


Create an exceptional artwork.

Contact one of our VAST experts to license this VAST photo:
SIMILAR PRIME COLLECTION PHOTOS
SIMILAR OPEN COLLECTION PHOTOS
TAGS