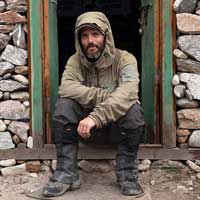 Doug Kofsky
The word Machapuchare translates from Nepali Bhasa as "Fishtail", as the mountain resembles the tail of a fish poking into the sky when looked at from the jungles below. I became fascinated with Machapuchare's unique shape and dedicated three weeks to hiking around it in order to find new places to view it from.

Namchung Ri, a nearby mountain, was the culmination of this research. "Ri" is the Nepali word for "hill" but in any other place Namchung would be called a mountain. It was quite an adventure to find this point. Let's just say my Nepali language and hand gesturing skills were put to the test.

On the morning of this photo, I was blessed with good weather. Recent rain had washed the haze out of the sky and the glazing of new snow shone like crystals on the icy peaks. This created the perfect conditions for shooting an extremely high resolution photo of the mountain in all its splendor.

Fishtail is considered a holy mountain in Nepal and climbing permits are not issued for the summit - so it has never been officially climbed. There are, however, rumors of attempted clandestine ascents. It's easy to see the spell it can cast on a mountaineer. I'm happy just to find the best place to shoot it from. But a part of me also admires the concept of holding that space for the god Shiva, as the local people do.

It's grounding to think of a place so revered and sacred that it has never seen human footprints.



Own a record-setting, ready-to-hang VAST Display of this photo or purchase a VAST License to create a customized artwork using it.



Own a display
Get a license
Learn about VAST photos, the highest resolution fine art images ever made.
Black and white version
Himalayas
Nepal
morning
landscapes
mountains
sky
snow
ultra-wide aspect ratio
sepia
brown
Discuss this photo on the blog
This photo is limited to a small number of displays and licenses. Be one of the exclusive owners.



Own a
display
Get a
license
Explore a black and white version of this photo
Scroll down to explore this photo further.
CLOSE-UPS
Stunning image clarity
This 121-megapixel large-format VAST photo is one of the highest definition fine art photographs ever created. It has a resolution equivalent to 58 full-HD TVs.

TECH SPECS
EXPOSURE SPECS
| | |
| --- | --- |
| Date & Time | May 30, 2013: 6:35am |
| Location | Namchung Ri, Nepal |
| Coordinates | 28.412821, 84.16641 |
| Camera | Canon 6D |
| Megapixels per Exposure | 20.2 |
| Lens | Canon 24-105mm f/4 L IS |
| Focal Length | 105mm |
| Aperture | f/13 |
| Shutter Speed | 1/200 |
| ISO | 400 |
| Number of Exposures | 13 |
FILE SPECS
| | |
| --- | --- |
| Total Pixels | 121,204,952 |
| Horizontal Pixels | 22,462 |
| Vertical Pixels | 5,396 |
| Aspect Ratio | 1 : 4.16 |
| File Size | 693 MB |
| Width @ 300ppi (perfect) | 6.24 feet |
| Height @ 300ppi | 1.5 feet |
| Width @ 150ppi (near-perfect) | 12.48 feet |
| Height @ 150ppi | 3 feet |
VAST DISPLAYS
THE HIGHEST QUALITY PHOTOGRAPHIC DISPLAYS EVER CREATED
VAST Displays are ready-to-hang art installations handcrafted on demand by world-renowned master printmakers using cutting-edge technology and premium materials.


TRULY SUPERLATIVE PRINT QUALITY
Your VAST Display is created by a very rare specialty printer, formerly used by the US military, with a truly stunning 6100 DPI clarity. The largest of its kind and one of only a handful worldwide, it is the sharpest photographic printer in use.
CONTEMPORARY FRAMELESS FLOATING MOUNT
Your VAST Display is sealed between flame-polished archival-grade acrylic glass and triple-layer aluminum. A hidden back brace causes it to appear to gracefully float off the wall for a sleek frameless look that complements nearly any style of decor. Want a traditional frame instead? Contact us and we can make it happen.
STATE-OF-THE-ART AUTHENTICITY
Your VAST Display has an affixed certificate of authenticity, hand-signed by the artist and the VAST printmaker. It is assigned a unique serial number via a permanent hologram seal and recorded in our registry. Its provenance is tracked and verified using state-of-the-art digital blockchain encryption technology.
A one-of-a-kind conversation starter
This VAST Display becomes a stunning conversation-starter wherever it's showcased. It's offered in 3 large-format sizes:











Own an exceptional photograph

This Prime Collection VAST photo is a limited edition. Own one of only a few
VAST Displays
of it that will ever be made.*
LICENSES
Customize your own VAST creation
A VAST license allows you to use this VAST photo in any size art installation or design project, using any printing, mounting, or framing method. Other photos degrade when enlarged, but this photo remains sharp up to 12.5 x 3 ft.
Your imagination is the limit for how it can be used.

Learn more about VAST licenses
Enter a pair of dimensions and see the difference in resolution between a typical fine art photo and this VAST photo printed at that size:
WIDTH (ft)
HEIGHT (ft)
*These images are for comparison purposes and, due to differing screen resolutions, do not necessarily reflect the appearance of the photos when printed.
TYPICAL PROFESSIONAL PHOTO
MAXIMUM PRINT SIZE WITHOUT QUALITY DEGRADATION:


THIS VAST PHOTO
MAXIMUM PRINT SIZE WITHOUT QUALITY DEGRADATION:


Create an exceptional artwork.

Contact one of our VAST experts to license this VAST photo:
TAGS
SIMILAR PRIME COLLECTION PHOTOS
SIMILAR OPEN COLLECTION PHOTOS