ABOUT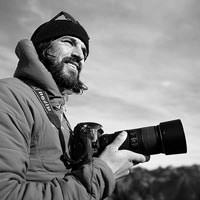 Scott Rinckenberger
It was the crux of an unusual mission that brought us to Ptarmigan Ridge on Mount Rainier on the evening of August 31. I was attempting to ski in my home state of Washington every single month of the year. The endless high mountains make this goal relatively straightforward from the first snows of late autumn through the long snowy spring. Come the later part of a warm, dry summer, this objective becomes a bit more challenging.

The tourists gawked as we set out from the trailhead with full ski and overnight equipment, as they picnicked among the wildflowers and enjoyed the calls of the basking marmots.

By evening, we were the ones who were gawking as the sun descended beyond a sea of lowland clouds, the moon rose on the opposite horizon, and the summit of Mt. Rainier bathed in the very last light of day to hit this part of the planet. Undeniably, the skiing on this outing was terrible, but I would do it every month for the rest of my life if it meant seeing scenes like the one that played out that night on Mt. Rainier.
CLOSE-UPS
Stunning image clarity
This 56-megapixel VAST photo is one of the highest definition fine art photographs ever created. It has a resolution equivalent to 27 full-HD TVs.

TECH SPECS
EXPOSURE SPECS
| | |
| --- | --- |
| Date & Time | August 31, 2012: 8:56pm |
| Location | Mount Rainier, Washington |
| Coordinates | 46.896419, -121.808531 |
| Camera | Olympus E-M5 |
| Megapixels per Exposure | 16.1 |
| Lens | Olympus M. 14-150mm f/4.0-5.6 |
| Focal Length | 14mm |
| Aperture | f/6.3 |
| Shutter Speed | 1/60 |
| ISO | 640 |
| Number of Exposures | 10 |
FILE SPECS
| | |
| --- | --- |
| Total Pixels | 56,401,050 |
| Horizontal Pixels | 12,746 |
| Vertical Pixels | 4,425 |
| Aspect Ratio | 1 : 2.88 |
| File Size | 322 MB |
| Width @ 300ppi (perfect) | 3.54 feet |
| Height @ 300ppi | 1.23 feet |
| Width @ 150ppi (near-perfect) | 7.08 feet |
| Height @ 150ppi | 2.46 feet |
Olympus M. 14-150mm f/4.0-5.6

VAST PRINTS
THE HIGHEST RESOLUTION PHOTOGRAPHIC PRINTS EVER CREATED
VAST Prints are fine art photographic paper prints that arrive ready to be mounted and/or framed. They are created using the sharpest photographic printer in commercial use: a very rare specialty printer that formerly printed currency and military surveillance imagery. Learn more


Every VAST Print has two certificates of authenticity hand-signed by the artist and the printmaker: one affixed to the print and one standalone. Additionally, each print is assigned a unique serial number via a permanent hologram seal and recorded in our registry. Its provenance is tracked and verified using state-of-the-art digital blockchain encryption technology.
VAST DISPLAYS
THE HIGHEST QUALITY PHOTOGRAPHIC DISPLAYS EVER CREATED
VAST Displays are ready-to-hang works of art that contain a VAST Print sealed between flame-polished acrylic glass and an aluminum backing. A hidden brace on the back causes the display to gracefully float off the wall for a sleek, modern frameless look that complements nearly any decor style. Learn more


SIZING GUIDE
A one-of-a-kind conversation starter
This VAST photo becomes a stunning conversation-starter wherever it's showcased. It's offered in 3 large-format sizes:














LICENSES
Customize your own VAST creation
A VAST license allows you to use this VAST photo in any art or design project, using any printing, mounting, or framing method. Other photos degrade when enlarged more than 22 inches wide, but this photo remains sharp up to 7.1 x 2.5 feet. Your imagination is the limit for how it can be used. Learn more
TYPICAL PROFESSIONAL PHOTO
MAXIMUM PRINT SIZE WITHOUT QUALITY DEGRADATION:


THIS VAST PHOTO
MAXIMUM PRINT SIZE WITHOUT QUALITY DEGRADATION:


Create an exceptional artwork.

Contact one of our VAST experts to license this VAST photo:
SIMILAR PRIME COLLECTION PHOTOS
SIMILAR OPEN COLLECTION PHOTOS
TAGS