7 Examples of the work and cost involved in creating a VAST photo
Creating a VAST photo
is not a cheap or quick endeavor. Here are 7 examples of the types of work and costs involved in creating a VAST photo that you may not have known about.

New York Wonderland – A 5,910-megapixel VAST photo I spent over 100 hours planning, shooting, and editing. I could have saved a few days of work by cutting corners in the editing process, but I chose not to because my goal was image quality perfection.
ONE
VAST photos are not cheap to create because they are, objectively, the highest quality fine art photographs ever made. Creating them is not as simple as clicking a shutter button on a typical DSLR camera and spending a few minutes processing the image file. Each of us artists can spend more than 100 hours and many thousands of dollars creating just a single one of our VAST photos. They are labors of love that we pour a lot of ourselves into.
Learn more about the image creation technique.
For example, some of our photographers travel to extremely remote places for weeks at a time just to get a single VAST photo. Our artist
Doug Kofsky
trekked for days into the backcountry of Nepal to get this incredible VAST photo of a remote mountain:
Machapuchare (6997m) from Namchung Ri: B&W by Doug Kofsky
Doug trekked for days in the remote backcountry of Nepal just to capture this VAST photo.
TWO
We use expensive equipment to create VAST photos. We are constantly buying the latest cameras, lenses, mounts, and tools to ensure we have the ability to create the best possible images. Currently, the gear I take on a typical shoot is worth around $18,000. This is money well spent because any imperfections in our equipment (such as mechanical backlash in a rotational part) will translate to a reduction in image quality. Therefore, we spare no expense in the creation of our rotational gimbal mounts, tripods, and other mechanisms necessary for ultra high resolution image-making.

I bring about $18,000 of equipment on a typical shoot.
THREE
Ordinary computers cannot process the hundreds of gigabytes that VAST photos can be (some of my layered photo files are even over a terabyte). So, we have to invest in building extremely high powered computers to enable us to wrangle all that data.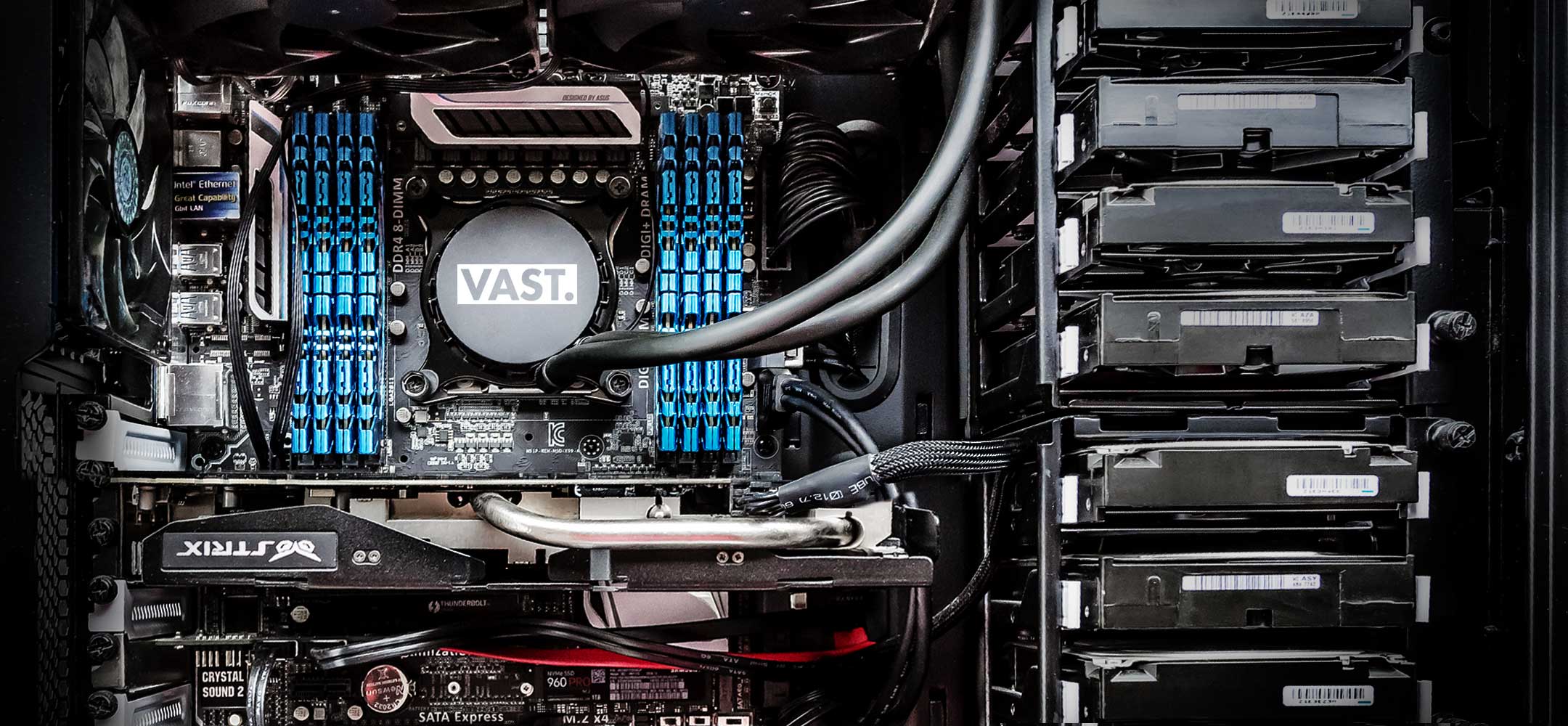 One of our computers, alone, is as powerful as 12 Apple MacBook Pro computers combined.
FOUR
We spare no expense in the printmaking process, utilizing the best technology and materials on the planet. The printer we use is the highest resolution chromogenic printer in commercial use and employs extremely fine lasers to expose the image on light-sensitive paper (unlike most other photographs you buy which are just ink sprayed on paper). There are only a very small handful of printers the same as ours in existence. Prior to us, the printer was used to make currency and military surveillance images. To say the least, utilizing this technology is not cheap for us.

VAST DISPLAYS UP-CLOSE
TYPICAL FINE ART PRINTS UP-CLOSE
FIVE
Many VAST photos are limited editions, meaning that only a small number of prints will ever be made of them (usually only a few dozen). This costs us money to do because we will have to turn down sales once we've reached the limit of prints we'll make for a photo. This, in addition to elements like the actual real hand-written signature from the artist, gives you the confidence that a VAST Print is a truly unique art piece and not something that's going to be on everyone's wall.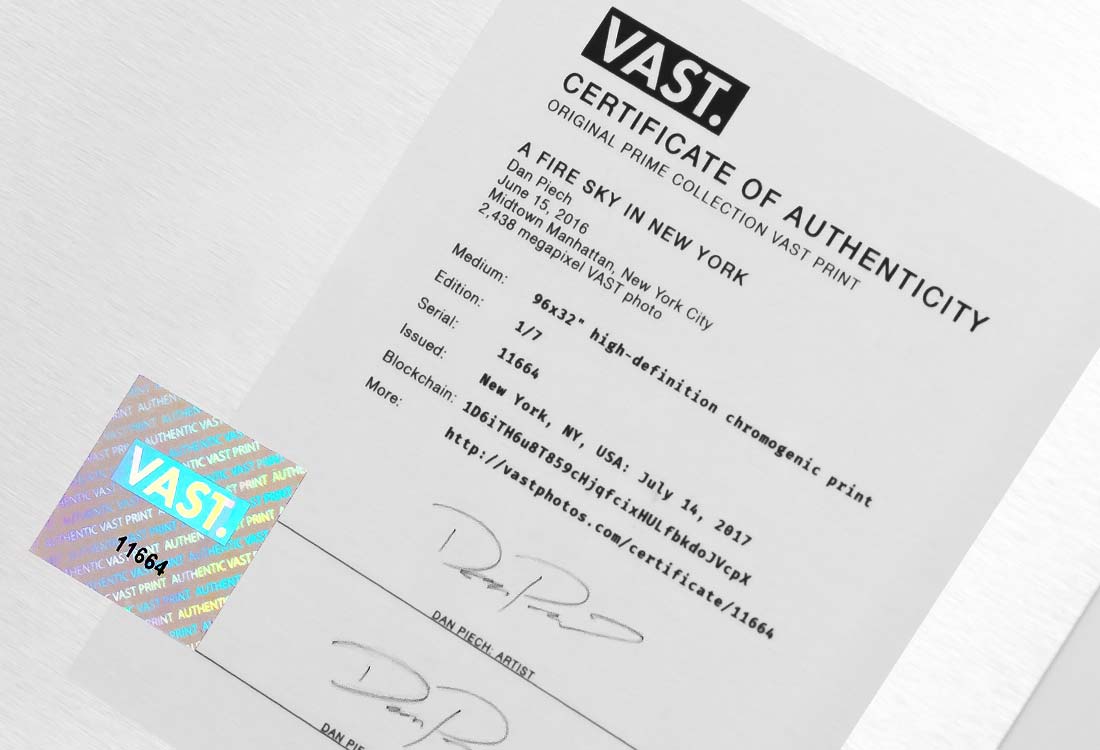 A certificate of authenticity ensures the limited edition nature of many of our VAST photos.
SIX
It's important to keep in mind that
VAST Displays
are substantially more expensive than the base VAST Prints because they are fully finished products that are ready-to-hang: they're acrylic glass-faced, aluminum-backed, etc. Touches like flame-polishing the edges of the acrylic glass and using triple-layer aluminum for added strength all add expense to our operation. And the Displays are not small. These things are difficult to convey via a webpage: but seeing one in-person is quite a striking experience. Additionally, it costs us hundreds of dollars just to package and ship a Display (which is a cost that's built into the price you see on the site because we do not charge for shipping, packaging, or handling).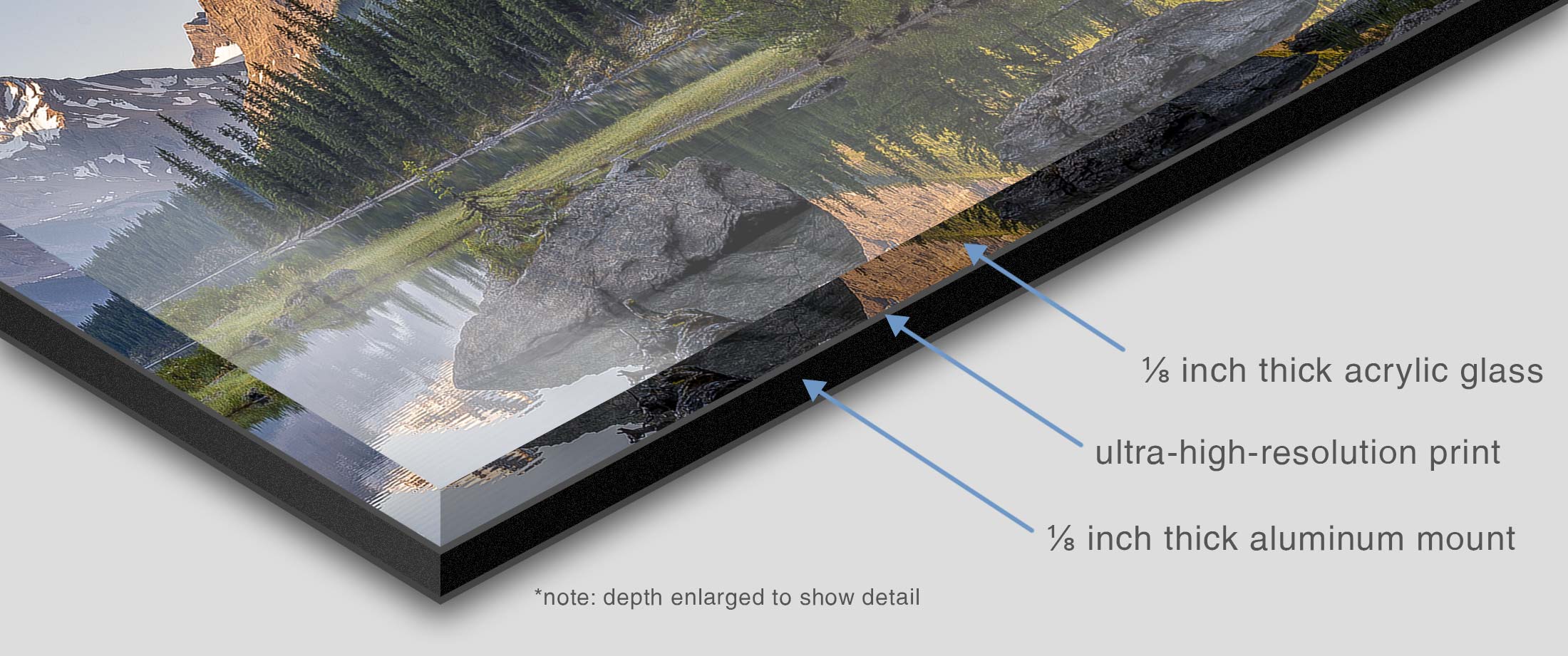 VAST Displays are fully-finished, ready-to-hang products.
SEVEN
A VAST photo is a truly unique and exceptional masterpiece created by a cutting-edge photographer at the peak of their craft with no expense spared in its creation. Buying one is supporting our team of artists, photographers, engineers, and computer scientists who are hard at work innovating new techniques at the intersection of art, photography, and technology. If that's a mission you want to support, then we ask that you consider buying one.