Photo Release: "Harvesting the Past" by Scott Dimond

A 137-megapixel VAST photo
Alberta, Canada
Although I live just one hour away from the beautiful Canadian Rocky Mountains to the west, I spend a surprising amount of my time exploring the vast Canadian prairies to the east. My fascination with the prairies lies in the old abandoned homesteads, a testament to a strength and fortitude of people willing to take a chance on a new beginning nearly a century ago.
These days, the number of these homesteads that remain continues to shrink and I must travel farther and farther to find them. Some finally succumb to decades of exposure to the elements and simply collapse. But more and more these days, their demise is at the blade of a bulldozer, removing an unnecessary obstacle for autonomous, GPS-guided, large-scale farming machinery.
I found this old homestead one day in early spring with snow still falling. It was a dreary overcast day but I immediately saw the potential of this west-facing house. What I envisioned was a sunrise photo with the sun positioned between the house and the first outbuilding. However, using an ephemeris app on my phone, I quickly discovered that the only time the sun would rise where I wanted it was during just 5 days in October. So, I began a six-month wait to take this photo.
When early October finally arrived, I rose before dawn and travelled to this location on four consecutive mornings. Each visit involved hiking out to this house in the darkness and setting up the special equipment I needed to create a VAST photo. The sunrise was obscured for the first three attempts, but on the fourth day my vision was finally realized and the sun rose exactly where I wanted it.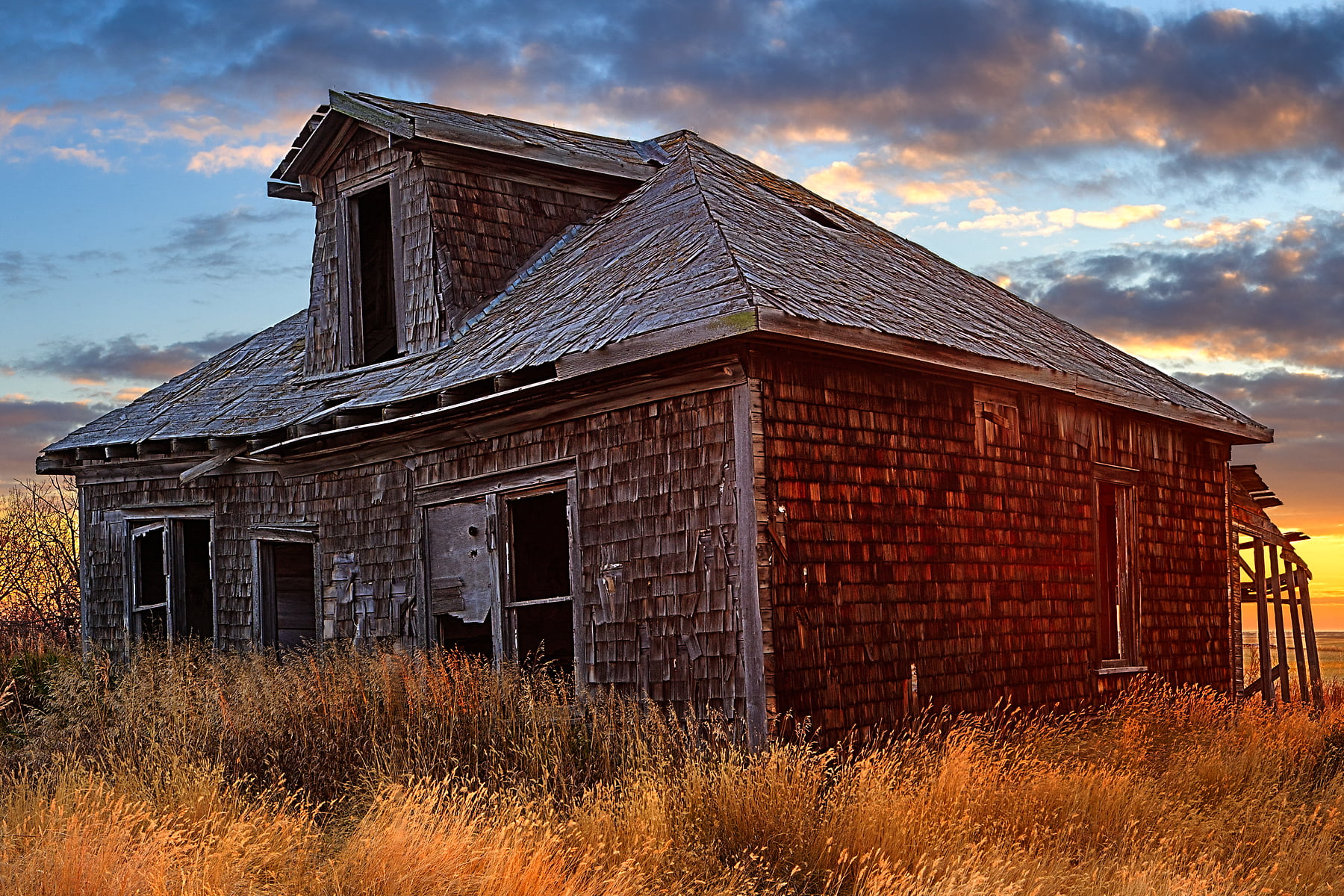 The fields surrounding the house had already been harvested. The old house sitting next to empty fields had me thinking of how much work must have been involved in the harvest a hundred years ago and how a successful harvest must have been an annual make-or-break event for the occupants of this house.
I have since returned to this location and all that remains is the house itself. The other buildings have been removed and it is only a matter of time until the house will also vanish, leaving no clues to the first settlers that worked this land in the past.